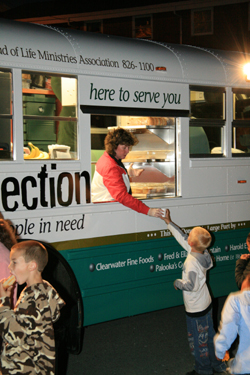 Street Connection Schedule
Monday - 7 p.m. - Corner of McIntosh St. & Herring Cove Rd.
Tuesday - 7 p.m. - McAlpine Dr., Bayers/Westwood
Wednesday - 7 p.m. - Jarvis Lane, Mulgrave Park
Thursday - 7 p.m. - Greystone Drive, Spryfield
Each week, with the exception of the last week of the month, we distribute soup, sandwiches, bagels, bananas, yogurt and apple juice to consume at the bus. We also distribute bread and take orders for children's clothing.
---
---